Thought my journal could use one of these!
Anything random you wanna tell me/ask me about, post it here ;D
This journal is semi friends only. If you want to add me and we share common interests, people or communities then please leave a comment below to let me know!
find me on
twitter: @galindafying | pinterest: galindafying | weheartit: galindafying
tumblr: ducksaysquack | youtube: misskitty373 | pottermore: fireboltstorm50

last.fm: misskitty373 | goodreads: danni373 | letterboxd: danni373
Feeling: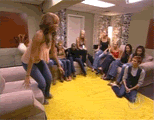 hungry
Listening To: kelly clarkson - maybe