I was very busy this weekend so this fanmix is really rushed and last minute but OH WELL.
I went with a love/couples theme inspired by the upcoming Valentine's episode!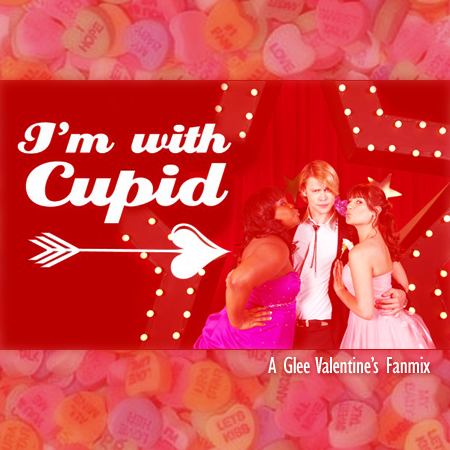 → Full Playlist Here!
1. Finn and Rachel; As Long As You're Mine
from Wicked
→ I've been wanting Finchel to sing this duet for as long as I've wanted New Directions to perform Seasons of Love! Needs to happen irl.
Just for this moment
As long as you're mine
I've lost all resistance
And crossed some borderline
And if it turns out
It's over too fast
I'll make every last moment last
As long as you're mine

Say there's no future
For us as a pair
And though I may know
I don't care
2. Brittany and Santana; Diet Mtn Dew
by Lana Del Rey
→ I just got Lana's BTD album last week, it's awesome! This song in particular made me think of Brittana :)
You're no good for me
Baby you're no good for me
You're no good for me
But baby I want you, I want you

Diet mountain dew, baby, New York City
Never was there ever a girl so pretty
Do you think we'll be in love forever?
Do you think we'll be in love?
3. Sam and Mercedes; Hero
by Mariah Carey
→ Because Mercedes would totally smash Mariah, and Sam is pretty much a superhero so there.
And then a hero comes along
With the strength to carry on
And you cast your fears aside
And you know you can survive
So when you feel like hope is gone
Look inside you and be strong
And you'll finally see the truth
That a hero lies in you
4. Tina and Mike; My Heart Will Go On
by Celine Dion
→ What is Valentine's Day without this song even? I'd love to see Tina do a really dramatic rendition of this ;P
You're here, there's nothing I fear
And I know that my heart will go on
We'll stay forever this way
You are safe in my heart
And my heart will go on and on
5. Will and Emma; Kiss the Girl
from The Little Mermaid
→ I have this scene played out in my mind. Season 1 Wemma go on a romantic rowboat trip complete with New Directions boys à la Bella Notte. Puck is Sebastian the crab, Finn is Flounder, Mike is a flamingo, Artie can be a pelican, and Sam is of course, a turtle xD
Shalalalala
My oh my
Looks like the boy's too shy
Ain't gonna kiss the girl
Shalalalala
Ain't that sad
It's such a shame
Too bad, you're gonna miss the girl
Go on and kiss the girl
6. Quinn and Puck; Stir It Up
by Bob Marley
→ Inspired by
The Baking Scene
.
Come on and stir it up; ..., little darlin'!
Stir it up; come on, baby!
Come on and stir it up, yeah!
Little darlin', stir it up! O-oh!
7. Sugar and Artie; Candy Girl
by New Edition
→ Tbh I just saw this song while I was searching for baking songs for Quick, and I thought it would be a good match for Shartie lmao
My girl's like candy, a candy treat
She knocks me right off of my feet
She's so fine as can be
I know this girl is meant for me

Candy girl, you are my world
You look so sweet, you're my special treat
Candy girl, all I want to say
When you're with me you brighten up my day
8. Kurt and Blaine; This Love
by The Veronicas
→ This sounds like it could be a Katy Perry song without actually being another Katy Perry song xD But the lyrics are also pretty perfect for Klaine's relationship.
I can see it in your eyes
Taste it in our first kiss
Stranger in this lonely town
Save me from my emptiness

You took my hand
You told me it would be ok
I trusted you to hold my heart
Now fate is pulling me away from you

Even if I leave you now
And it breaks my heart
Even if I'm not around
I won't give in
I can't give up
On this love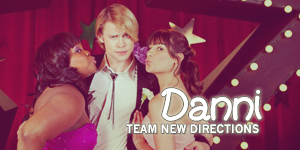 Feeling:
amused